Cognition Partners specializes in venture consulting. We work as contract entrepreneurs providing the experience and resources needed to launch new businesses quickly and successfully.
Our model calls for Cognition's consultants become an integral part of the organization, helping to shape and grow it. We actively address shortcomings that may include limited market insight, fundraising, business strategy, and key account traction. As your partner, we assist your organization to maximize its potential.
Outlined below is an overview of how Cognition approaches the go-to-market process on behalf of our venture clients.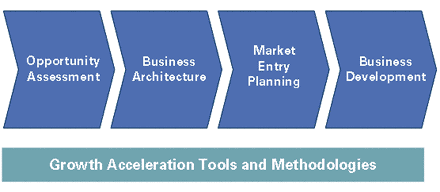 Cognition uses technology-enabled methods through-out the entire process to compress the time to revenue and improve the probability of successful market entry.